Looking for keto crockpot recipes for your weekly meal plan or recipe rotation? Finding slow cooking low carb keto recipes just got a lot easier with these 40 healthy recipes!
I'd like to take a moment to celebrate the most liberating kitchen appliance of all time-the crockpot. Slow cooker meals have been saving us all time in the kitchen for decades, and when you're on the ketogenic diet, you develop a special appreciation for every time-saving keto crockpot recipe you find.
Because your body depends on it!
The Cold Hard Truth
Most of us don't have several hours a day to spend in the kitchen planning and preparing our ketogenic meals. But, we know our keto diet requires a fair amount of plan & prep, or we risk falling off our shiny new fat burning wagon straight into carbs-ville.
The Best Way to Bypass Carb City?
Meal planning and using keto crockpot recipes!
I know busy weekends often prevent Sunday meal prep and that's why I celebrate my keto crockpot recipes-often!
You can throw them together quickly, and by the end of the day, you have a healthy keto meal that tastes amazing!
I'm organizing these keto crockpot recipes for you so they'll be easy to find later. I'm putting chicken first then beef then moving on to soups. I did my best to include as much variety as possible without going too far into complicated crockpot territory! There's some of everything here-from good old standby meal prep chicken and broth recipes (for weekends when you do have time to meal prep!) to slow cooker ribs! Yeah-you can do those in the crockpot!
Want Your Keto Diet Planning Done For You? Try Tasteaholics Weekly Keto Meal Plan!
As in, an official keto meal plan delivered to your inbox every single week. It's pretty fantastic. Just so we're clear here I'm talking about easy to read recipes with macronutrient breakdowns. Ready to go grocery shopping lists and snack recommendations that you can pull up on your laptop or iPhone no matter where you are. Tasteaholic's Meal Plan totally rocks, y'all. And they let you try it for free.
Now let's get to the crockpot recipes!
Creamy Low-Carb White Chicken Chili
Only 5.2 net carbs per serving in this fabulous crockpot recipe that you can make ahead & freeze for up to 6 months! I can't imagine something this delicious lasting that long in my freezer-everyone here adores this recipe! If you're skimming for ingredients you'll need: chicken breasts, chili powder, cumin, garlic powder, chicken stock, green chiles, butter, heavy cream, & sour cream. 
Get the full recipe & instructions on Lowcarb-ology
Crockpot Creamy Tuscan Garlic Chicken
This creamy Tuscan Garlic Chicken with Spinach is not only easy to prep in 15 minutes, but it also brings you the amazing health benefits of garlic! Here's what you'll need: chicken breasts, olive oil, garlic cloves, heavy cream, chicken broth, grated parmesan cheese, Italian seasoning, salt & pepper, chopped spinach, & sun-dried tomatoes! 
Get the full recipe on Wholesome Yum
Low Carb Crockpot Chicken Fajita Soup
Packed with flavor & super easy! Here's what you'll need to have on hand: boneless, skinless chicken breasts (frozen is fine), diced tomatoes, chicken broth, taco seasoning, minced garlic, onion, red & green bell peppers.
Get the full recipe on Eating On A Dime
Slow Cooker Garlic Chipotle Lime Chicken
Another set it & forget it keto crockpot recipe! Don't be afraid of the spice in this easy recipe from Beauty and the Foodie-you can adjust to taste! All you need for this one is chicken (frozen is fine!), tomato sauce, garlic, green chiles, apple cider vinegar, lime, your favorite sweetener, chipotle powder, and salt & pepper!
Crockpot Chicken Marsala
Only 15 minutes to prep this low carb crockpot recipe! Here's what you'll need: boneless chicken breasts, minced garlic, olive oil, salt & pepper, Marsala wine (or sub chicken broth), arrowroot powder, portobello mushrooms, and parsley.
Get the full recipe on Sugar Free Mom
Keto Crockpot Salsa & Cheese Chicken  
Only 3 ingredients in this easy & delicious keto crockpot recipe from STOCKPILING Moms!
Easy Slow Cooker Shredded Chicken  Easy step by step guide on how to do meal prep chicken in your crockpot!
Slow Cooker Lemon Chicken
This light & flavorful 4-ingredient meal comes together in just 5 minutes! You'll need: butter, boneless chicken breasts, Italian salad dressing seasoning mix, and two lemons. 
Get the details on Melanie Makes 
Slow Cooker Buffalo Chicken
The easiest crockpot recipe you'll ever make! And maybe the most delicious. AND the most budget-friendly. I could go on & on, but instead I'll just tell you that you'll need: boneless skinless chicken breasts, buffalo sauce (Frank's is recommended), butter, garlic & onion powder. Boom. 
Get the details on Nutrition Addiction
Crock Pot Pepper Jack Chicken 
The EASIEST of all time! Just throw a few chicken breasts in with some bell pepper, mushrooms, a bag of frozen green beans and a little garlic and onion powder and you've got a delicious keto friendly meal at the end of the day!
Crock Pot Ranch Chicken 
Only 4 ingredients! Chicken, butter, cream cheese, and seasonings make a perfect keto crockpot recipe from Baking Outside the Box!
Crockpot or Skillet Peanut Lime Chicken Here's a sweet and salty Thai keto crockpot recipe that you can freeze and cook later! YESSS! And it doesn't call for anything crazy! You use chicken, peanut butter, lime, soy, garlic, cilantro, ginger, & red pepper!
The prep for this one is super easy and you do right there in your crockpot! All you need is a few garlic gloves, a little olive oil, balsamic vinegar, and kosher salt and bone-in chicken breasts! This keto crockpot recipe from Real Food Whole Life is one that you'll put on repeat!
Slow Cooker Jerk Chicken
Yes, traditionally Jerk Chicken is a grill recipe, but let's make it easy on ourselves, ok? This is a gem of a crockpot recipe-I've tried it using wings & drumsticks & chicken breasts & it turned out beautifully each time! Here's all you'll need: 1 whole chicken OR a mix of wings & drumsticks OR chicken breasts, salt, paprika, cayenne pepper, onion powder, thyme, white pepper, garlic powder, & black pepper. 
Get the full recipe on Paleo Flourish 
Keto Crockpot Recipes ~ Beef & Pork
Low-Carb Slow Cooker Philly Cheesesteaks
You won't believe how easy this recipe comes together! Put everything in the crockpot (except the cheese) and go about your day! Here's what you need: sliced beef sirloin, onion, bell peppers, mushrooms, beef broth, ghee, steak seasoning, garlic powder, pepper, parsley, and provolone cheese. Serve in lettuce cups, fathead bread, or just eat it straight out of the crockpot. (Not that I've ever done that…)
Get the recipe on Fit Slow Cooker Queen 
5-Ingredient Slow Cooker Steak Fajitas
If you're looking for a delicious keto friendly fajita recipe with a homemade seasoning this is it! You can use a packet if you feel you must-I won't tell on you-but Shannon (aka Fit Slow Cooker Queen) has a simple recipe for one-& I bet you have all the ingredients in your spice cabinet!
You'll love this easy pot roast with a 5 minute prep time that involves buttering the roast! There's also a way to freeze it for later! This Keto crockpot recipe is a family favorite around here & I bet yours will love it too!  
Slow Cooker Carne Asada
Yes, it tastes as good as it looks!
Now you do have to sear two pounds of flank steak to get this recipe started, but then you set it & all the other tasty ingredients in the crockpot & forget it for 8 hours. Then you shred it up with a fork and serve it over a salad or leaf tacos. It's magical.
Crockpot Crustless Pizza 
Looking for an easy keto crockpot recipe the whole family will love? You can put this Crockpot Crustless Pizza together in 10 minutes using (browned)ground beef, mozzarella & provolone cheese, pizza sauce, and any other toppings you desire (mushrooms, pepperoni, etc.)
Slow-Cooker Stuffed Taco Peppers
All the flavor of a taco wrapped up into a low carb pepper! Genius! Here's what you'll need: red bell peppers, cauliflower rice, minced turkey, Monterey Jack cheese, garlic powder, chili powder, & olive oil! 
Get the full recipe on Ruled.Me 
Slow Cooker Mongolian Beef Alyssa (aka The Recipe Critic) says this beef is one of the best things you'll ever make in your slow cooker. I think she's right! It takes minutes to prepare the flank steak & seasonings and 4 hours to cook!
This recipe for slow cooker beef (for the burritos) has the most mouth-watering flavor-which is to be expected when you pair ingredients like black & chipotle pepper, garlic, and cinnamon!!! What could possibly make these crockpot creations better? How does 14g of net carbs for 2 burritos sound?
Take Out Crockpot Beef & Broccoli 5 minutes of preparation & 6 hours in the crockpot using a boneless beef chuck roast!
Crock Pot Philly Cheese Steak Casserole Inspired by the famous sandwich-minus the carbs! Simple prep & common ingredients like shredded beff, bacon, bell peppers, onions, mushrooms, and cheese make this keto crockpot recipe a favorite weekly go-to!
5-Spice Slow Cooker Pork Ribs Yes, making ribs in the slow cooker is a thing! You can also use beef ribs if you prefer! Did I mention the 2 minute prep? T-W-O minutes! Think of all of the easy BBQ's, family reunions, 4th of July cookouts…
Slow Cooker Pork Tenderloin The most unique & delicious pork tenderloin you can find! The tenderloin is fall apart tender with a-wait for it-Balsamic Blackberry Sauce the is divine! The best part? A 15 minute prep time!
Keto Mississippi Pot Roast A special (but easy) pepper combo makes this keto pot roast from Ruled.Me stand out from the crowd!
Keto Low Carb Chili Recipe
No fancy ingredients! You're going to love this 15 minute prep chili recipe (without beans) from Wholesome Yum! P.S.- Maya gives Instant Pot instructions for this one too!
Crockpot Sausage, Beans, and Greens
Greens, beans, and turkey or sauce make a fabulous summer crockpot meal!
Paleo Pork Roast Slow Cooker Recipe With A Chimichurri Sauce Try this pork roast recipe-it's everything you want in a crockpot roast…What I need you to NOTICE is this Chimichurri Sauce! It's the game changer! This is the little black dress of drizzles-it goes with everything & everyone should have one!
Slow Cooker Mexican Lasagna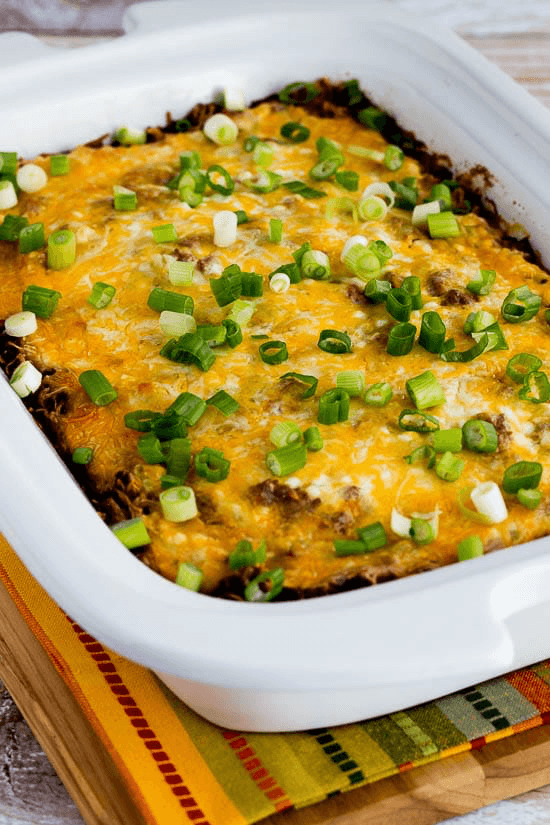 Lean ground beef, Mexican seasonings, Rotel tomatoes, diced green chiles, onions, and low-carb tortillas make a Mexican Lasagna in the crockpot you'll devour!
Get the recipe on Kalyn's Kitchen 
Low Carb Beef Stroganoff Fast, easy, and filling keto crockpot recipe that is sure to become a family favorite!
Slow Cooker Sausage & Peppers
Keto Crockpot Recipes ~ Soups & Stews
Slow Cooker Low Carb Chicken Taco Soup
All of the ingredients for this keto crockpot recipe go directly into your slow cooker & you're done! Boom! Oh, and if for some reason you have leftovers, you can freeze those for later! Mic drop!
This nourishing soup is loaded with flavor & healthy immune building vegetables! Perfect for cold winter nights! Get the recipe on My Natural Family 
Easy Spicy Crockpot Double Beef Stew 
It takes all of 5 minutes to throw ll of the ingredients into your slow cooker & you're done! Don't let the "spicy" scare you away-it's easy to adjust! Get the recipe on Wicked Stuffed 
Low-Carb Chicken "Noodle" Soup
Slow Cooker Low Carb Zuppa Toscana Soup
Slow Cooker Mexican Beef Stew
Keto-Friendly Easy Bacon Cheeseburger Soup
Savory Keto Bone Broth Recipe
Are you addicted to side dishes? This will help! Easy prep and when it's all said and done you're left with a bubbly, cheesy side that works as a cold breakfast the next day if your in a hurry!