NEED IDEAS FOR A FAST AND EASY KETO LUNCH?
Lunch is an easy time for me to fall of the "healthy eating wagon." If I am not prepared then I have to get takeout and when I have to eat out, it's easy to ignore your diet rules when you're faced with a lot of tempting lunch options. To help you stay on track I have filtered through recipe after recipe online to find meals that tasted good and that I can make quick (or ahead of time). Here are a few of my favorite go-to fast and easy keto lunch ideas.
For me, the rules of a good recipe are – easy to prepare, fast to prepare, and can be made ahead. I work full time, outside the house so make ahead options are a must. I don't have time to prepare complicated lunches every day. Any eating plan that requires me to spend a lot of time cooking is not for me! I usually spend about an hour on Sundays meal prepping for a few lunches during the week. This makes things go so much smoother during the week!
KETO LUNCH CHARCUTERIE
Say that 3 times fast! I love appetizers so I therefore go crazy over charcuterie platters. This makes a great and really satisfying lunch. Green Egg & Goats has added various types of salami, marinated mozzarella balls and olives, but you can also add nuts, or small pickles. You can switch it up and add nuts, vegetables, diced chicken, etc. Super easy!
COBB EGG SALAD
This Cobb Egg Salad recipe is GOOD – and it keeps really well. I have found that it keeps longer by not adding the arugla directly to the salad.  Instead I serve it over a bed of arugula, or I make Listotic's recipe,  90-second keto bread in the microwave  and serve the egg salad on top, along with the arugula. You can also use spinach or other lettuce. See Lemon Tree Dwelling's Cobb Egg Salad recipe, here.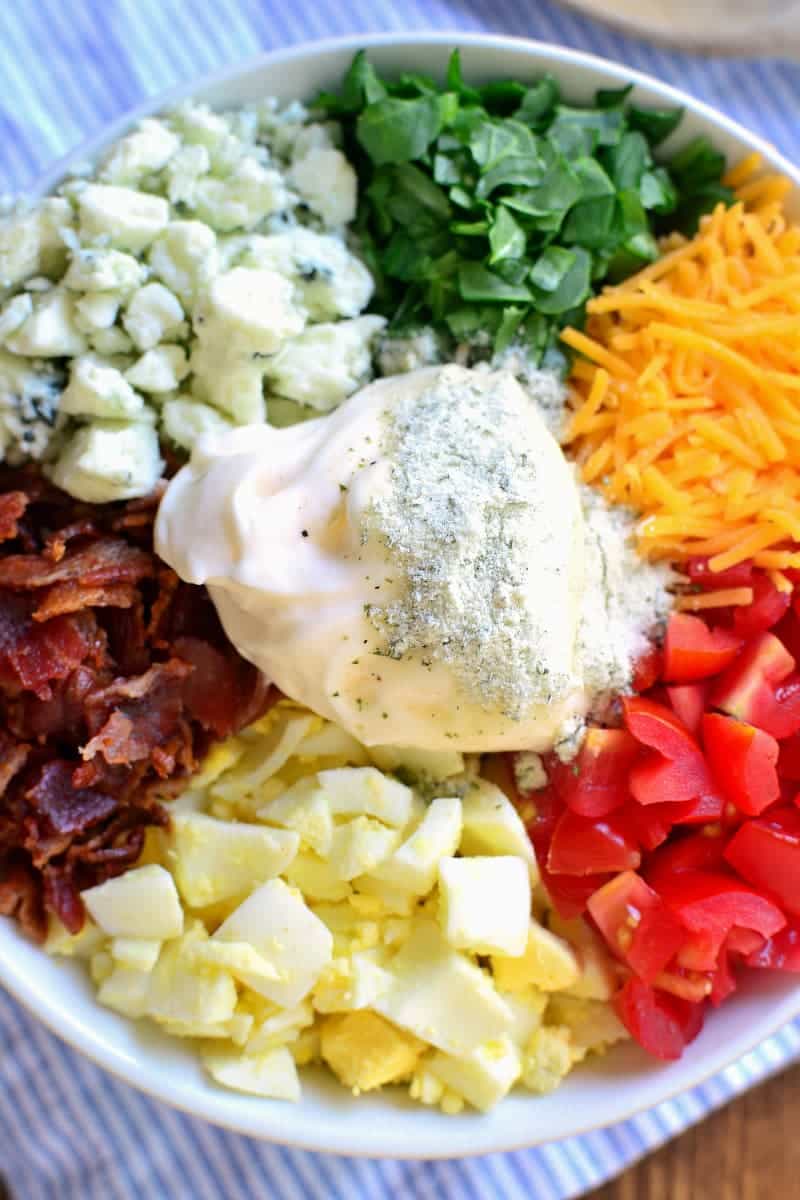 SALMON ROLL UPS
OMG. I love smoked salmon and avocado, and of course cream cheese. See Our Paleo Life's fantastic recipe here. The dill dip seasoning blend is what gives these babies awesome flavor!

KETO TUNA SALAD STUFFED AVOCADOS
PICK YOUR PROTEIN SALAD WITH CREAMY RANCH DRESSING
For this recipe you've got loads of options! Pick your favorite protein and veggies, and make this fabulous ranch dressing and you are set for an awesome lunch.
You can use egg (see pic below), chicken, steak, shrimp, fish, or ham. Pack up your favorite salad veggies, chicken, and dressing into separate sections or containers.
You can grill your own chicken in advance, or you can buy pre-grilled chicken breasts from the store to save some time. I typically try and keep pre-grilled meats in the freezer (either homemade or store bought) so I can quickly grab that important protein in a hurry!
You will love this homemade keto approved and dairy free creamy ranch dressing.Tip: when making the recipe I used fresh diced onion instead of dried onion, but either one will taste good.
INSTANT POT LOW CARB AND KETO CHICKEN SOUP
Prepare this super easy chicken soup ahead of time, or for a dinner and use as leftovers. Pack up in a microwave safe dish, and reheat for your next lunch. I eat this one a lot at work! I like comforting cozy food at work! Enjoy!
BUFFALO ZUCCHINI CHICKEN BOATS
This one is perfect for a meal prep. It has minimal ingredients and is really easy. You can bake it all ahead of time then reheat for your lunch. I packed my lunch with a side of celery sticks and chunky blue cheese dressing to keep with the buffalo chicken theme! I did mix a little bit of blue cheese dressing with the buffalo sauce before baking as well. So good. See A Wholesome Dish's recipe, here.
ONE PAN ROASTED SHRIMP AND ZUCCHINI AND TOMATOES
We currently have an overabundance of zucchini and tomatoes from our garden. In fact, I'm thinking of making a post solely dedicated to zucchini recipes, LOL! I also just noticed that my sister Jen (Whole Lotta Yum) recently posted a zucchini and tomato recipe so that tells me she has a lot from her garden too! See Whole Lotta Yum's recipe, here. With a slight variation to add protein and make it a complete lunch…
In the last 15 minutes of roasting your vegetables, add shrimp to the same pan you are roasting your veggies in. Toss the veggies and shrimp so the shrimp get coated in the olive oil and cheese. Finish baking and yum!
LEFTOVERS
Yep, I know. You're thinking, duh Kori!  I thought it worth mentioning that you'll can save yourself a lot of time by making extra portions of your previous night's dinner. As you're cleaning up, set aside your portion for your next day's lunch. Easy and Yum! In all the evening chaos I often forget about leftovers. If it's on the list I won't forget! 🙂
WE WANT TO HEAR FROM YOU!
Tell us how your healthy eating plan going? How do you juggle your diet plan with your lifestyle and family needs?
Let us know how you like these recipes. Maybe you made the recipe but a different variation? Let us know about that too!
Get your recipe featured on our site! Feel free to send any of your favorite recipes and we'll select a few from our readers to add to our site – and we'll give you all the credit! Please only send recipes of your own creation!
I LOVE to be pinned!