Here are my tips and tricks – I promise though – it's so easy! And that melted garlic butter on top is to die for!!!!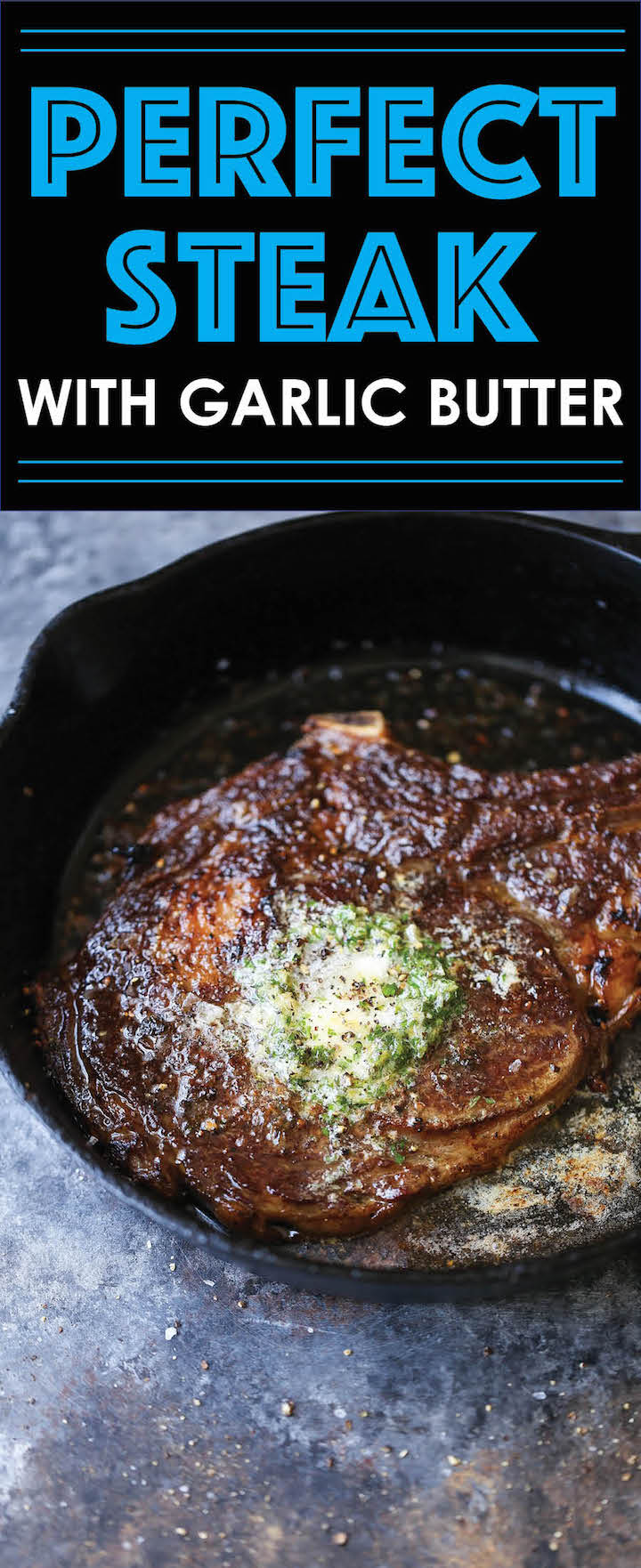 Perfecting that steak can be a bit tricky.
Sometimes that sear is just perfect but the inside is nowhere to be cooked. So by the time the inside is cooked, your crusty exterior is basically, well, dead at this point.
So here it is – that juicy, crisp steak cooked just the way you want it, topped with a garlic compound butter that is off. the. hook.
Really.
You can put that butter on anything and everything – dinner rolls, toast, chicken or seafood. You name it. You can also prep the butter ahead of time and freeze as needed.
I mean, you never know if there's going to be a butter shortage so let's just play it on the safe side.
Garlic Compound Butter by Damn Delicious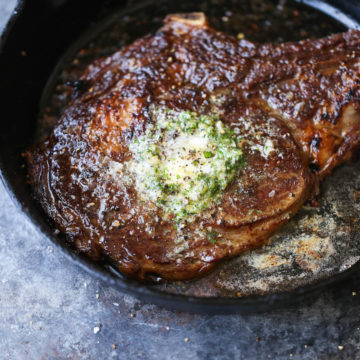 THE PERFECT STEAK WITH GARLIC BUTTER
Here are my tips and tricks – I promise though – it's so easy! And that melted garlic butter on top is to die for!!!!
INGREDIENTS:
4 (12-ounce) rib-eye steaks*, 1 1/4-inch-thick, at room temperature
4 tablespoons olive oil
Kosher salt and freshly ground black pepper, to taste
FOR THE GARLIC COMPOUND BUTTER
1/2 cup unsalted butter, at room temperature
1/4 cup chopped fresh parsley leaves
3 cloves garlic, minced
Zest of 1 lemon
1 teaspoon thyme, chopped
1 teaspoon rosemary, chopped
1 teaspoon basil, chopped
1/2 teaspoon kosher salt
1/4 teaspoon ground black pepper
Pinch of cayenne pepper
DIRECTIONS:
To make the garlic compound butter, combine butter, parsley, garlic, lemon zest, thyme, rosemary, basil, salt, pepper and cayenne pepper in a medium bowl. Transfer mixture to parchment paper; shape into a log. Roll in parchment to 1 1/2 inches in diameter, twisting the ends to close. Refrigerate until ready to use, up to 1 week.*
Preheat oven to broil. Place an oven-proof skillet in the oven.
Using paper towels, pat both sides of the steak dry. Drizzle with olive oil; season with salt and pepper, to taste. Remove skillet from the oven and heat over medium-high heat.

Place the steak in the middle of the skillet and cook until a dark crust has formed, about 1 minute. Using tongs, flip, and cook for an additional 60 seconds.
Place skillet into the oven and cook until desired doneness is reached, about 4-5 minutes for medium-rare, flipping once. Let rest for 3-5 minutes.
Serve immediately with garlic compound butter.
NOTES:
*T-bone, filet mignon or New York strip steak can also be used.