The keto diet is a healthy way of living that also helps you lose massive amounts of weight. Total Keto Diet for Beginners provides you with everything you need to start the keto diet: from how to calculate macros to keto food lists, to five keto meal plans to select to suit your lifestyle & of course all of the ketogenic rules you need to know like what foods to avoid on the keto diet! If you are looking for information on how to start losing weight on the ketogenic diet, Total Keto for Beginners is the place to start!
The keto diet can be confusing. One minute you've got it all together & you're searching for weight loss recipes and next thing you know you're looking up macro counts on a foreign website because you think you may be doing the whole keto diet wrong!
It happens to the best of us.
That's why I wrote this guide-Total Keto Diet For Beginners. To help you navigate the keto diet without losing your mind! Hey-I understand you may be skeptical of all the weight loss gurus out there. Sometimes I wander how many go It's not like there is a shortage of keto blogs on the internet.
But this is not just another keto blog. Seriously, the keto diet changed my life.
Five years ago I was a little heavier than I am now. After a series of unfortunate events, including being called fat by one of my daughter's friends and realizing I was becoming a shut-in due to my weight & a heavy cloud of depression, I decided to start this life-changing keto diet that I didn't believe in at first. It appealed to me because I loved food & I refused to starve myself. I saw results immediately, and once I gained momentum there was no stopping me. I lost more than 20 pounds in the first two months. That's when I started to believe in the keto diet.
I've been fat. I've been skinny. Now, I'm strong. If you want to lose weight, no matter how much-a little or a lot-I can help you do that.
Over the past five years I've learned a few things that I think will help you lose weight on the keto diet too. This guide outlines everything you need to know.
As cheesy as it may sound, you can change your life with this diet.
Not just shed a few pounds for a wedding, or get in shape for bikini season, I'm talking about real life altering progress.
The keto diet offers many health benefits in addition to weight loss that have impacted my life big time. It helped with my depression, balanced my hormones, stabilized my crazy migraines and I look ten years younger. Hell, let's be honest. I'm a different person now. And that's fine. Because I hated who I had allowed myself to become. But enough about me, let's get to keto!
What Is The Keto Diet?
The ketogenic diet has been around since the 1920's when a physician developed it for patients with epilepsy. Studies have proven that the low carb  ketogenic diet reduces factors for diabetes, heart disease, stroke, Alzheimer's, and some suggest it to be beneficial for certain types of cancer. All I am qualified to do is speak to my personal experience with the keto diet-I am not a doctor!
Halle Berry revealed earlier this year she uses the ketogenic diet to manage her Type 2 diabetes and credits the diet for slowing down her aging process. Popular versions of the keto diet include the South Beach Diet & the Induction Phase of The Atkins Diet. Today we are talking about the straight up standard ketogenic diet for weight loss.
Ketosis & The Keto Diet 
Ketones are produced in the liver from fat when you eat very few carbs and moderate amounts of protein. Your body & your brain then uses these ketones for fuel.
When you are on the keto diet, your body switches from using carbs to fat as fuel/energy sources. As a result, insulin levels decrease and fat burning increases. Big Time.
This ultimate fat burning mode is known as ketosis.
Fat burning mode = Ketosis
When your body is producing ketones you have entered ketosis-which is a natural metabolic state. (Not a danger zone like Ketoacidosis-which is a dangerous complication of Type-1 Diabetes.) Once you're in ketosis your body has started to work for you & burn fat for fuel.
You will also feel more alert, energized, less hungry, and focused.
Macros
If you've read anything about the keto diet then you've likely seen the words macros & micros tossed around (like you should know what those are.)
Don't feel bad if you had to google macro. It gets a lot of hits!
When keto people are talking Macro's they are referring to the amount of fats, protein, and carbs you need to hit ketosis.
Macro is short for macronutrient. Macronutrients are fats, protein, and carbohydrates. Our body needs these nutrients to grow, develop and repair itself. Macro's contain calories & every macronutrient contains a certain number of calories per gram.
For example: 30 grams of Fat contains 270 calories. 30 grams of Protein contains 120 calories. 30 grams of carbs contains 120 calories. You can get lost in these numbers. DON'T. Let's move on. I'm sorry I brought it up.
Micro is short for micronutrient. Micronutrients are vitamins and minerals and they are also necessary for life but in smaller amounts.
Typically on the keto diet you'll get 10% of your calories from carbs, 15-25% from protein, and 70% or more from fat.
UGH! How Many Macros Do I Need To Get Into Ketosis????
Use this Free Low Carb Macro Calculator to figure out your number the EASY way!
All you have to do is insert your body fat percentage (you can use this to figure it out), gender, weight, activity level, and weight loss goals! You'll find out exactly how many calories you need to be eating as well as what your daily macronutrients should look like!
Signs of Ketosis
In the beginning of the diet it may be easy to say forget it & throw in the towel because you don't know if it's working…Maybe you've shed a little water weight, but you expected more. You didn't give up your favorite breakfast smoothie & swear off fast food for nothing! You need to know your sacrifices are paying off. I get it!
So how do you know if the diet is working?
While your body won't be sending you an email alert when you hit ketosis, it will give you a few distinct signs that you are entering the fat burning nirvana.
Bad Breath – This is the most common sign your body is in ketosis. You may experience a metal-ish taste or even a fruity taste. However you describe it, bad breath is a good thing because it means you body has started to feed off of it's fat stores. Chewing sugar free gum will help until your body gets used to the diet & then your breath will go back to normal! You won't have chronic halitosis forever!
Decreased Appetite – This fabulous benefit comes along with most low carb diets. You aren't eating sugar and carbs so you don't experience the blood sugar roller coaster's peaks and crashes like you used to. Also, factor in that the foods you are eating are full of healthy fats and energy sustaining protein. Or it may be the ketones working on the hunger hormones. My personal experience? I don't get hungry anymore. I once was a stone cold carb addict. I couldn't go an hour without some kind of sugar laden carb filled snack or drink in my hand or on my table. Cheeze-Its & Dr. Peppers nearly did me in. Now, not so much.
What You Can Eat On The Keto Diet
Butter
Ghee
Coconut Oil
Lard
Bacon Fat
Duck Fat
Beef Tallow
Avocado Oil
Olive Oil
Macadamia Nut Oil
Walnut Oil (Use Small Amounts)
MCT Oil
Palm Oil
Meat
Pretty much every meat you can think of is on the keto diet! Just in case you can't think of it-I've listed it here! Grill it, bake it, boil it, slow cook it. Meat is always a fabulous low carb choice!
Alligator
Bear
Beef
Bison
Boar
Buffalo
Deer
Buffalo
Elk
Lamb
Moose
Pork
Snake
Veal
Cured Meats
Pepperoni – Bacon –  Deli Meat – Sausages – Salami
Poultry
Chicken
Hen
Quail
Turkey
Pheasant
Duck
Fish
Anchovies
Bass
Catfish
Cod
Halibut
Flounder
Eel
Haddock
Red Snapper
Sardines
Salmon
Sole
Trout
Tuna
Tilapia
Mackerel
Mahi Mahi
Orange Roughy
Shellfish
Abalone
Caviar
Crab
Clams
Lobster
Mussels
Octopus
Oysters
Scallops
Shrimp
Snails
Squid
Eggs
Chicken Eggs
Goose Eggs
Duck Eggs
Quail Eggs
Fruits
[MOST FRUIT IS TOO HIGH IN CARBS TO RISK IT! THESE ARE OK IN VERY SMALL AMOUNTS]
Avocados & Olives
Blackberries
Blueberries
Cranberries
Lemon
Lime
Raspberry
Strawberry
Vegetables
Arugula
Asparagus
Artichokes
Broccoli
Bell Peppers
Boy Choy
Brussels Sprouts
Cabbage
Cauliflower
Celery
Chard
Collard Greens
Cucumbers
Eggplant
Endives
Fennel
Green Beans
Jalapeño Peppers
Garlic
Iceberg Lettuce
Kale
Leeks
Mushrooms
Mustard Greens
Onions
Peppers
Scallions
Spaghetti Squash
Spinach
Swiss Chard
Tomatoes
Turnip Greens
Zucchini
Nuts & Seeds
Almonds
Brazil Nuts
Cashews
Hazelnuts
Macadamias
Peanuts
Pecans
Pine Nuts
Pistachios
Pumpkin Seeds
Sesame Seed
Soy Nuts
Sunflower Seeds
Walnuts
Dairy
Butter
Blue Cheese
Brie
Cheddar
Cottage Cheese
Cream Cheese
Feta Cheese
Greek Yogurt
Goat Cheese
Half & Half
Heavy Whipping Cream
Mozzarella
Parmesan
Provolone
Ricotta
Swiss
Sour Cream
Foods To Avoid Keto Diet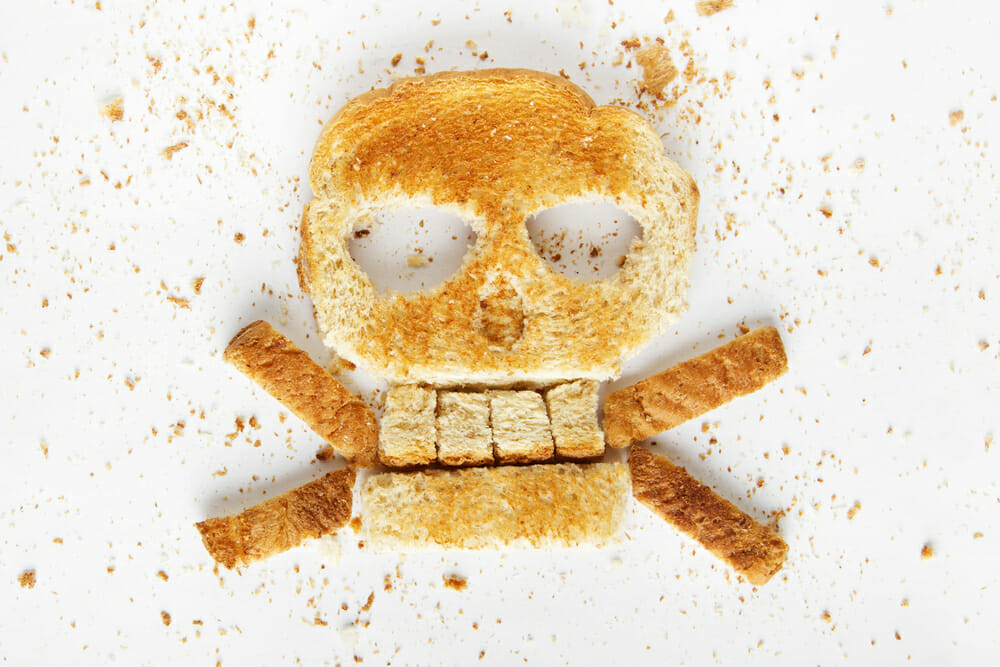 GRAINS
Pasta
Rice
Wheat
Oats
Barley
Rye
Corn
Beer
Quinoa
Couscous
Rice Flour
Bran
Buckwheat
Millet
White Flour
Wheat Flour
*Most Flours As A Rule 
Sugar
SUGAR IS NOT ALLOWED! AVOID THESE COMMON SUGAR FILLED FOODS!
Sodas
Juice
Sports Drinks
Chocolate
Ice Cream
Cookies
Candy
Fruit Juice
Avoid These Ingredients
White Sugar
Agave
Brown Sugar
Corn Syrup
Coconut Sugar
Fructose
Dextrose
Lactose
Glucose
Honey
Maple Syrup
Fruit to Avoid
Canned Fruit
Apples
Orange
Bananas
Kiwi
Grapes
Peaches
Watermelon
Processed Foods: If it comes in a bag or a box it's probably processed food which is NOT on the keto diet!
Stay Away From
Bread
Cereal
Cakes
Chips
Pastries
Pretzels
Pancakes
Snack Bars
Most Sauces
Crackers
Baked Goods
Muffins
Ice Cream
Avoid Milk
Both full & low-fat milk are not allowed as they are high in carbs
Legumes
Avoid All Beans, Lentils & Soybeans on the Keto Diet! 
No Chickpeas
No Baked Beans
No Black Beans
No Pinto Beans
No Kidney Beans
No Lima Beans
(*Exception for Green Beans & Peas-You can have those)
Avoid Unhealthy Fats & Oils
Canola Oil
Corn Oil
Peanut Oil
Grapeseed Oil
Safflower Oil
Soybean Oil
Sunflower Oil
Keto Friendly Herbs & Spices
Basil Leaves
Black Pepper
Cayenne Pepper
Chili Powder
Cilantro
Cumin
Dill
Sage
Sea Salt
White Pepper
Italian Seasoning
Rosemary
Oregano
Garlic Powder
Paprika
Parsley
Thyme
Alcohol & Keto
Yes, you can have a glass of wine. No, you cannot drink the entire bottle. If you're looking for carb counts, here's a couple you may find helpful. Pinot Noir comes in with the lowest carb count at 3.4 grams for a 5 ounce glass in case you're looking for a red. There are a few whites that have a low carb count too-like Pinot Grigio. It has 3.4 grams. So a little wine is fine.
Beer AKA 'Liquid Bread" is out of the question. It's loaded with gluten! Just red flag it & move on! Straight up liquor is your lowest carb option. Tequila!, Vodka, Rum, and Gin all have 0 carbs & Brandy only has a few. Keep in mind this is without mixers like juice & soda. Those are loaded with sugars & carbs & are OFF LIMITS on the keto diet! Keep it neat & you'll be fine!
What I Did To Lose Weight
The first few months of my diet were so BORING. I ate the same thing over & over again. Cheddar cheese, boiled eggs, grilled chicken, fat bombs, and steak. Slowly, I became a low carb lunatic. My refusal to try anything different was driving my family crazy too. But I needed to be 100% sure the recipes I used would keep me in ketosis. Maybe I was a little paranoid someone would sneak in a carb to sabotage me? That sounds so ridiculous now, but in the beginning it was a thing! I've found these ebooks from Tastaholics that have saved my sanity. Seriously.
All of the recipes are 5 NET CARBS or LESS & have 5 INGREDIENTS & ARE SUPER EASY TO MEAL PREP!